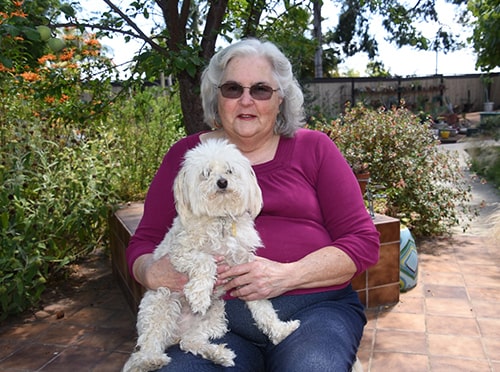 Caroline McCullagh's road to penning her own novels was not direct. Like many women of her generation, she left college to marry and spent years as a wife and mother before returning to school in the late '80s. And even then, it was not writing that engaged her. Her ongoing interest in the Inuit and Eskimos of the far north was the genesis of her return to college, and she earned bachelor's and master's degrees in cultural anthropology. She also did the required classwork for a PhD, but chose not to go further with her studies.
When the writing bug began to hit, helping others with their writing came first. In 1998, she edited a cookbook, Sing for Your Supper, for San Diego Opera, and later participated in writing and performing in a short opera, The Singing Mirror. She has edited many books and short stories for friends, including her writing partner, Dr. Richard Lederer.
Her other published books, co-written with Richard, include American Trivia and American Trivia Quiz Book. A daily newspaper column, based on those two books, ran for four years in the San Diego Union Tribune.
She edits Richard's other books as well as books for friends, although she doesn't edit professionally because of time constraints. Before Covid, she taught writing with one class and one private student a week. She looks forward to getting back to that someday.
She has written monthly book reviews for over twenty years, first for the San Diego Horticultural Society's Let's Talk Plants and now for American Mensa's national magazine, Mensa Bulletin. She has also taught creative writing for many years in a program of continuing education for seniors.
Caroline started writing fiction in her 60s. In writing the Anne O'Malley novels, she found her voice. Like Caroline, Anne is a woman of a certain age, and like her, Anne is widowed. Caroline is often asked if Anne's story is autobiographical. It's not. Anne's life has its own direction.
But Anne is the woman Caroline wishes she were. Anne says yes to life and faces whatever comes with courage. When she seeks answers to a family mystery she had been researching with her late husband, she finds adventure beyond her wildest imaginings and a love that is totally unanticipated. Most importantly, though, she learns that when we allow for it, the adventure in life continues at any age.
In addition to her writing, Caroline is a dedicated gardener and a sometime quilter and is active in Mensa and Phi Beta Kappa. She loves to spend time with her daughter and grandchildren, lunch with friends, play in her garden, listen to music—mostly opera and jazz, read mysteries, and rework some of the recipes she will share with you in her blog. In her free time, Caroline thinks about writing, as she plans Anne's next adventure.